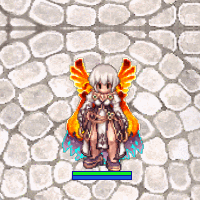 For the month of September, we will be implementing the update to the first ROS Cloak.
To upgrade your ROS Cloak; you simply need to bring materials to the ROS Valkyrie NPC in Prontera.
Special Materials
You will also need ROS Phoenix Gem and ROS Special Dye to upgrade your cloak. These can only be acquired through the Daily Login Calendar. It's very important that you don't miss a day as there's no where else to acquire these special items. If you don't intend to use these for the cloak. You can exchange them for consumables from ROS Valkyrie.