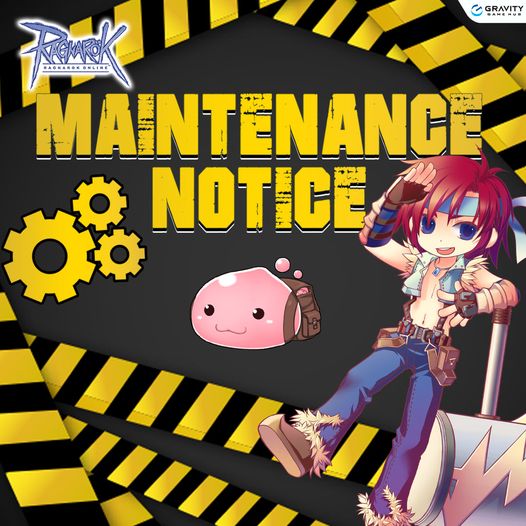 Scheduled Maintenance 22 April 2022
Dear Adventurers,
Please be informed that there will be a scheduled maintenance on 22 Apr 2022, from 10:00am to 5:00pm(GMT+8).
UPDATE

- New items added in Kachua's Secret Key.
- Removal of previous items in Kachua's Secret Key.
- Removal of Valkyrie NPC that reward Treasure Box.


REMOVED ITEMS (Kachua's Secret Key)
- Bravery Bag
- Rideword Hat
- Chick Hat
- Blue Rear Ribbon
- Greed Shadow Weapon
- Vital Shadow Shield
- Beginner Shadow Shield
- Beginner Shadow Shoes
- Rookie Shadow Shield
- Rookie Shadow Shoes
- [Kachua] Power Booster
- [Kachua] Kafra Card
- [Kachua] Lv10 Blessing Scroll
- [Kachua] Lv10 AGI Scroll
- Treasure Box
BUG FIXES (updated)
- Memorial Dungeon Nydhorg's Nest can now be accessed properly.
- Scaraba Card is now working properly.
- Crescent Scythe can now be enchanted in Malangdo.
- Thanatos Tower 7F is now accessible.
- Costume White Rabbit is now displaying the correct description.
- Quest "Go to Turtle Island" will no longer be active after getting to Turtle Island.
- Blacksmith can now equip Claire Suits as intended.
- NPC Suspicious Wooden Stick is now located at ma_dun01 152 23
- Monster Tamer NPC that was inaccessible to players in Izlude is now located at izlude_in 55, 105.
- Saving at Kafra Employee at the west gate of Prontera will now enable player to return to her when returning to last save location.
- Low-level Collection quest is now resetting at the intended time.

Thank you!
Follow us on our Social Media Channels to receive the latest news and updates:
ROGGH Website: https://ro.gnjoy.asia/
ROGGH Official Facebook Page: https://www.facebook.com/ragnarokggh
ROGGH Community: https://www.facebook.com/groups/ragnarokonlineggh
YouTube: https://bit.ly/GravityGameHub
Discord: https://discord.io/ragnarokggh